Following the completion of Geri's Game, I joined most of Pixar already working on A Bug's Life.
I was an effect artist -- to find out what that meant, check out the A Bug's Life page.
The ABL wrap party was at the fabulous Paramount Theater in Oakland, organized by the incomparable Kevin Reher. Check out the action here.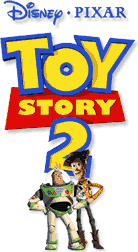 And, in 1999, I got to be an effects artist on Toy Story 2, a truly hilarious movie! I worked on effect again, doing lens flares, lasers, the superballs in the Toy Barn sequence, and, uh, other stuff at the beginning of the movie. After everyone's seen the movie I'll put up some examples of what I did... for now you'll have to just enjoy the movie at your local theater. Toy Story 2 opens just before Thanksgiving 1999.