Among her other talents, Yoshikawa-san was a fantastic cook. Every breakfast and dinner I had at her house was fantastic; in fact, eventually I had to beg off finishing dinner because it was so much food.
Every meal included tea, miso soup, and rice, all ingredients Yoshikawa-san thought were essential for a healthy meal.
Eating
(and eating and ...)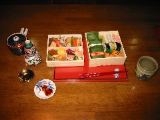 At left is a one of the only times Yoshikawa-san didn't cook (it was a meal she brought back from a retired teachers' association meeting she went to), but in fact it's a good indication of the kind of food I was eating in Kanazawa. A little bit of Sushi or Sashimi, miso soup, vegatables, pickles, and rice. Beatifully arranged, and often including local and/or seasonal foods. Several of the meals had bamboo shoots picked in the hills around Kanazawa, as well as the famous Kanazawa seafood.