Snowboarding
In 1987, while on a group ski trip to Sun Valley, I decided that I wanted to try out these things called 'snoboards' that I had seen around a little bit the previous year at Whistler. A few inquiries later, a local dude took me to the beginner hill to show me how this thing worked and my life changed. Snowboarding is intrinsically the funnest thing you can do on snow, and I was hooked! I've spent a lot of days riding down the mountain since then in the U.S., Canada, and Europe and it's still the funnest thing I know of. The years have produced lots of fun riding buddies, an entire winter devoted to being a snowboard bum in Canada, and many good times with a group of good friends in the midst of snow.
Here's a map of the places I've been lucky enough to ski or snowboard at. I hate to sound like Warren Miller, but you should visit as many of them as you can as soon as possible!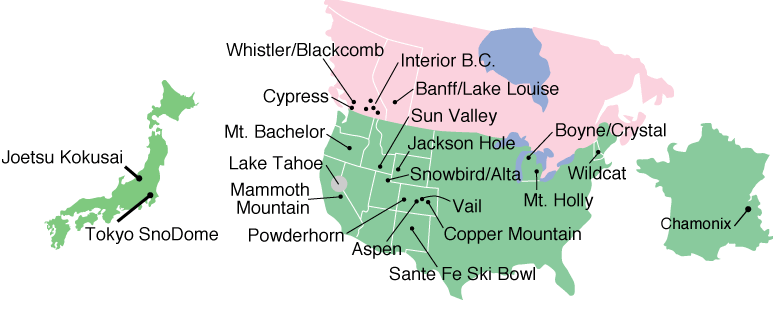 | | | |
| --- | --- | --- |
| If you want to see some of what I've been up to, just click here and keep clicking on the next link. | Or, you can click on the handy map above to go straight there (unfortunately, I have no pictures for many of the resorts listed) | Or, you can use the text list below. |
My Home Hill - Squaw Valley USA

A Truly Mammoth Thanksgiving (1998)
Joetsu Kokusai 上越国際スキー場 (2007)
All material is copyright © 1999-2005 Leo Hourvitz except where noted.
Please let me know what you thought of the site, the navigation, the content, or the photos, and I hope you enjoy the site!